2018 Nebraska Tax Form Tips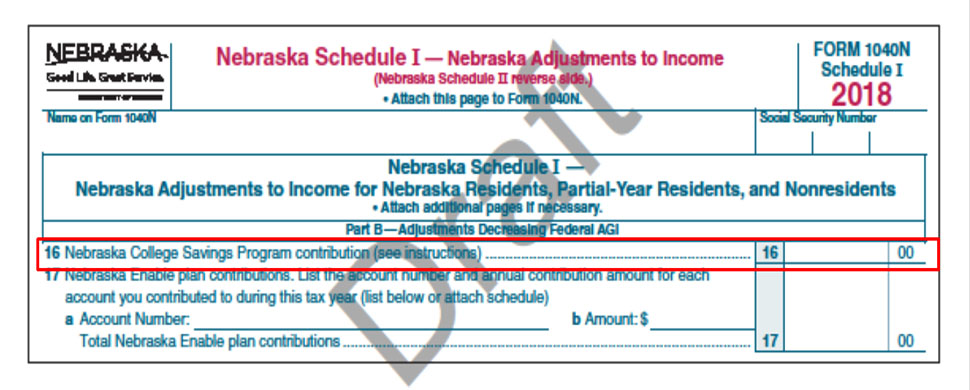 Remember to report your 2018 NEST contributions on your 2018 Nebraska state income tax return. To be eligible, contributions must have been completed online by December 31, 2018 before 10:59 PM CT. or postmarked no later than December 31, 2018.
Account owners are eligible to receive a tax deduction of up to a maximum of $10,000 ($5,000 if married, filing separately) for contributions they make to their own NEST accounts. Contributions in excess of $10,000 cannot be carried over to a future year.1
For a minor-owned or UTMA/UGMA NEST account, the minor is considered the account owner for Nebraska state income tax deductions. The minor must file a 2017 Nebraska tax return to be eligible for a deduction for his/her own contributions. In the case of an UTMA/UGMA NEST account, contributions by the parent/guardian listed as the Custodian on the UTMA/UGMA NEST account are also eligible for a Nebraska state tax deduction for their contributions.
Both the contribution and earnings portion of funds from a non-Nebraska 529 plan that were deposited into a NEST Plan are eligible to receive the tax deduction.
Contributions made to another state's 529 college savings plans are not deductible from the Nebraska state income tax. Do not include those contributions on your Nebraska tax form.
Grandparents can only take a tax deduction for contributing to their own accounts for their grandchildren. Grandparents cannot claim a deduction if they make contributions to a grandchild's account owned by the parents.
If a non-qualified withdrawal was taken or funds were rolled out to a non-Nebraska 529 plan, previous tax years' deductions are subject to recapture.
Getting a Tax Refund?
It's easy to put your tax refund to work in your NEST 529 account. If the refund check is made payable to you, endorse the check over to the "NEST Advisor Plan" and write your NEST account number on the check. If the refund is received electronically, send a personal check or log onto your account and send an Electronic Funds Transfer directly from your bank account.