NEST tax advantages.
Watch your earnings grow faster. Regardless of your income or how much you can afford to invest, NEST gives your money a greater opportunity to grow with the help of tax advantages.
Tax-advantaged savings result in your money working harder for you. How? Contributions to your NEST Advisor Plan account are made with after-tax dollars and your earnings grow federally and state tax-deferred while they're invested. Rather than paying taxes on the money you're earning, it's being reinvested. All of the investment growth is yours to use.

When it's time to use the money for college, your withdrawals are tax-free as long as the funds are used for qualified college expenses like tuition, books, computers and room and board.1
Other tax advantages
There is no income limit or savings cap and there is a high contribution limit of $400,000 per beneficiary.2
Take into consideration state tax benefits.
Nebraska account owners are offered significant tax advantages for investing in NEST, including an annual $10,000 income tax deduction. Get the details.
See how much more you could save with a tax-advantaged 529 account.*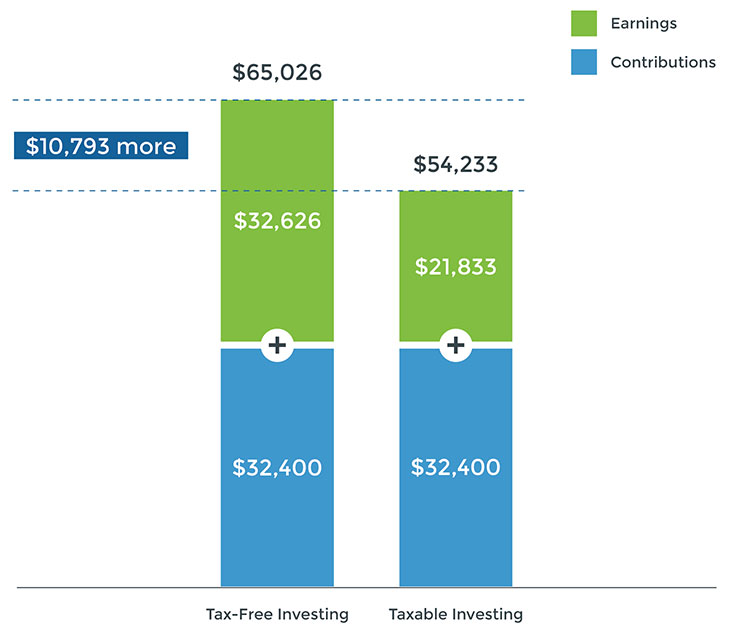 *Amount assumes an annual investment return of 7% and monthly contribution of $150 per month for 18 years. This hypothetical is for illustrative purposes only. It does not reflect an actual investment in any particular college savings plan or in the NEST Advisor Plan or any taxes payable upon withdrawal.
Keep in mind that this is a hypothetical example and its intention is to illustrate the difference between tax-advantaged and taxed accounts. Lower maximum tax rates on capital gains and dividends would make the return of the taxable investment more favorable, reducing the difference in growth.